Guiding Principles of LA Cancer Research Foundation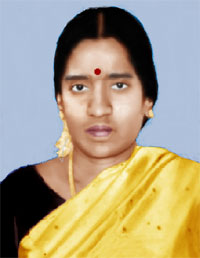 Smt.Lokanayagi Adikesavan
Lokanayagi Adikesavan (LA) Cancer Research Foundation (a 501(c)(3) Non-Profit Organization) is established for a noble cause, in the fond memory of Ms. Lokanayagi Adikesavan. Lokanayagi Adikesavan was born in India on Sep. 20 1941. She served as Chairman, Tamil Literature for some years in Government College for women, Mayavaram, TN, India in 1960s, when college post graduation of women was just uprising. Lokanayagi was a simple but strong-willed woman in her days and always thought of progress of woman. This young lady lived as a nonpareil dynamic and multifaceted woman. She helped young girls to redesign themselves for personality development, in the day-to-day-changing modern world. In fact Lokanayagi was a model for women in 20th century - to program self to be a good woman, good wife, good mother and an excellent professional. She even portrayed herself as an iron lady forbearing what has come to her, after she was told she had Acute Myeloid Leukemia.
At the age of 44, on April 4, 1986, the young lady passed away leaving her small family who can only think of her but never see her anytime. The family had to witness what the young lady's husband Dr.A.S.Adikesavan (Retd. Chairman, Math. & Comp. Applications and Controller of Exams, National Institute of Technology (NIT), Trichy, India) reiterated: "Only when crisis occurs, we can know what life is". Such a heavy loss in their own family, awakened the founder Dr.Nallini, an ardent admirer of her mother Lokanayagi, to institute a Cancer Research Foundation in her name, to keep at the least her imprints alive. The founder recalls that Lokanayagi was such a loving mother who did not even wish her daughter to see her pitiable mental and physical condition at the cancer hospital, while undergoing treatment, as she felt it would create an everlasting scar in the child's mind. Lokanayagi never shed tears anytime for the short stay coming to a close at a young age. But just slowly said one day to her husband, "I can't fold my hands and pray my God, which I do every night before going to sleep, as my hands are paining after so many intravenous injections". As a mother she wished to have a grace period of only three more years, just to prepare her child to face the life ahead, though she knew that she will be no more in a week. Even to date, cancer is still a threat to human life and creates a pathetic situation for the patient who awaits miracles to happen if the treatment does not help to completely cure cancer. When the miracle does not click, it leaves the family to grieve forever with the incomparable and irreparable loss. Our Cancer Research Foundation is intended to aid the research community that strives hard to cure cancer and help families avoid such tragedies in the future.
The LA Cancer Research Foundation encourages and supports upcoming young researchers, dedicated with dynamism and concern for cancer research. It is designed to serve as a powerful source of support for the dedicated scientists to contribute by devising curative methods for cancer. En route, it also aims at educating people at large about known carcinogenic agents. The earnest goal of Lokanayagi Adikesavan Research Foundation is to help cancer patients to be able to buy medicines at an affordable price, through in-house discovery of pharmaceutical drugs (using Bioinformatics applications) that can completely cure cancer, sans chance for recurrence. This is an ever cherished dream to come true with global collaborations and support for the noble cause.